After a one-year delay due to the COVID-19 pandemic, GCC Consultancy will officially present its own booth at the 14th Vietnamwood event from October 18 to October 21, 2022 at SECC. The press conference of Vietnamwood took place on October 5, attracting the attention of leading prestigious media units such as: HTV, VTV, BTV, VITV, VOV, Vnexpress, Vietnam News, and more. Speaking at the press conference as a representative of smart solution businesses, Bernd Kahnert, CEO & founder of GCC, shared many points featured in the exhibition as well as bringing initial ideas of Industry 4.0 and Smart Factory Strategies to provide businesses in the Vietnamese furniture industry with a specific view of the roadmap  to their smart factory in the context of global development.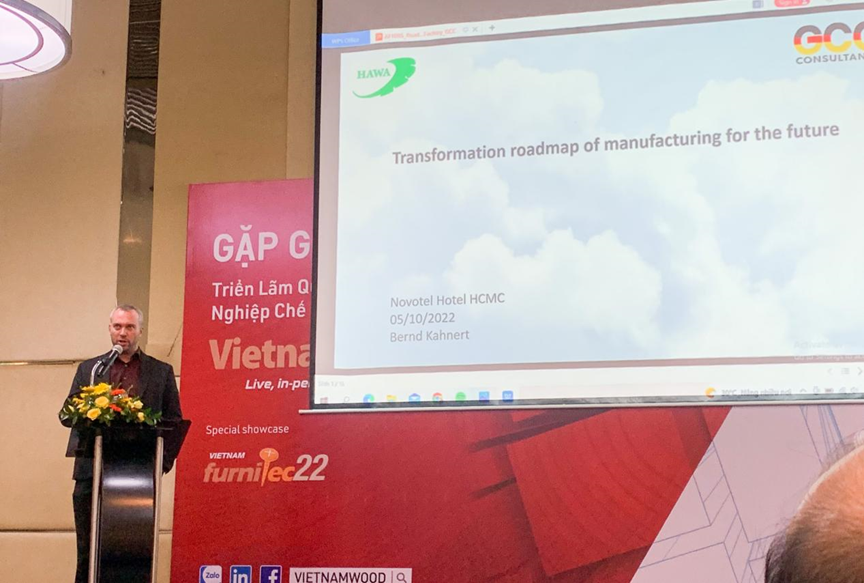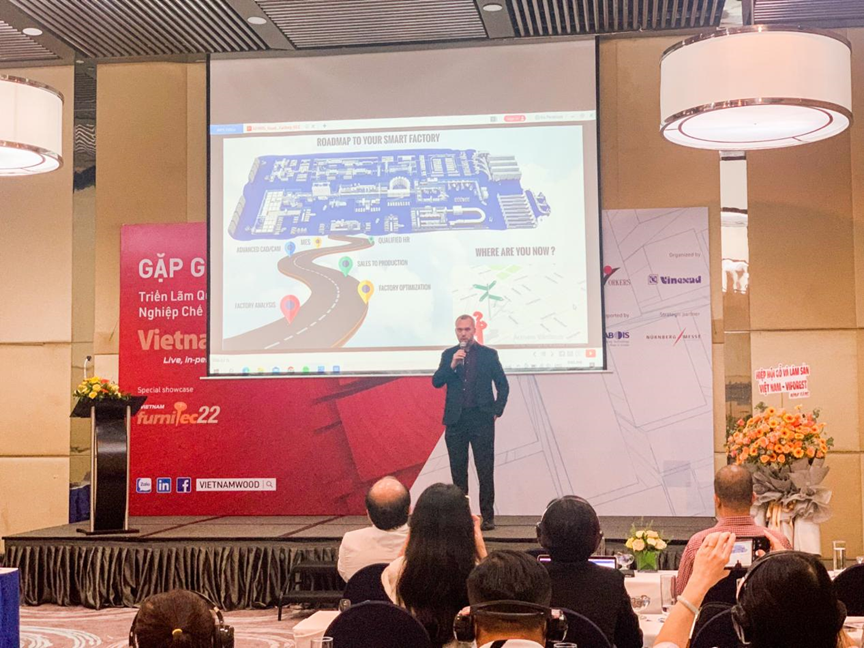 At the event, Mr. Bernd said that the furniture and wood industry in Vietnam has a great potential to grow further in the coming years but many enterprises are still facing difficulties in improving their production efficiency to become more competitive. To help Vietnamese businesses take advantage of this local growth, he presented the concept for a roadmap to the Smart Factory by example of the GCC smart integrated solutions and consulting services.
In his presentation, Mr. Bernd said that in order to get smart factories, businesses need to start with understanding the status of their factory with their current production processes from the beginning and determining their needs for their improvements. To help the businesses achieve that, GCC and its international partners can provide a detailed analysis of factories and production processes followed by customized solutions, ranging from the very first concept of a total new factory layout to analyzing and optimising existing factories. After that, a concrete road map including a budget and a ROI estimation can be made as a basis for saving money by improving inefficient production techniques. Mr. Bernd also said that the cost of an analysis project is much cheaper than the cost of having inefficient production processes.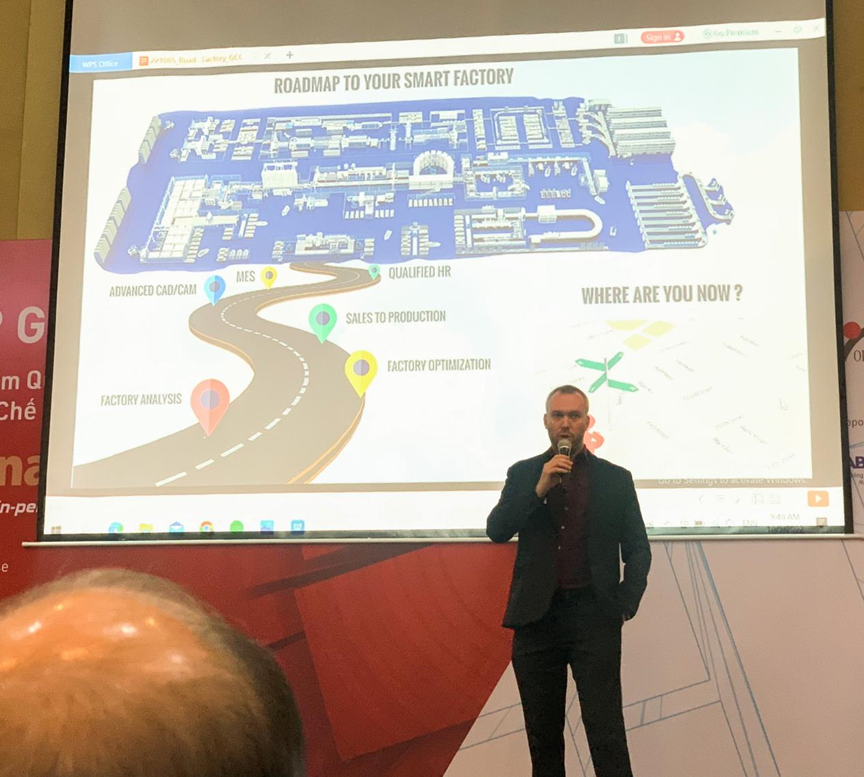 Next, Mr. Bernd said that as the wood export industry in Vietnam becomes more developed, the need for integrating smart technologies across borders and cultural differences becomes necessary. To meet this demand in a smart way, the next step that businesses need to take is to use a single platform that can be used by the customer and producer at the same time. Mr. Bernd claimed that this technology is already very popular in many countries in Europe and that it is useful in domestic market now because it connects sales to production even across borders in a single database while synchronizing automatically. GCC and their partner 3CAD provide such a user-friendly sales-to-production solution. This increases user flexibility and efficiency across borders and reduces lead times greatly. 3CAD synchronizes sales and production data automatically with stunning 3D real-time visualization.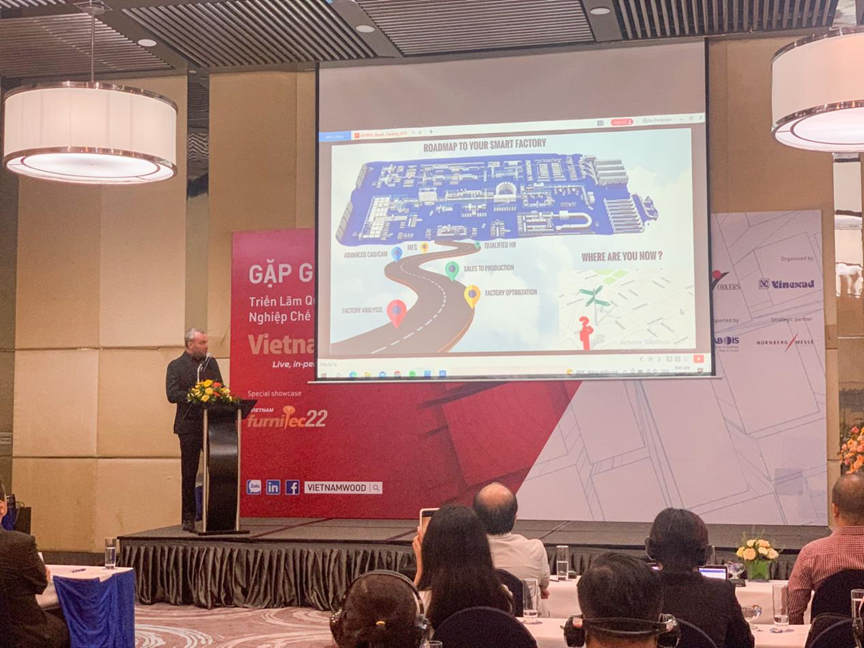 Continuing the roadmap to the Smart Factory, Mr. Bernd suggested that one way to integrate the existing processes with new technology is by the use of a Manufacturing Execution System (MES). Mr. Bernd said that MES can optimize the production processes while increasing quality and factory control. GCC and their partner MPDV can provide the latest MES technology HYDRA X to turn a factory into a smart factory. The modular build of the software ensures that GCC can find a customized solution for everyone´s needs and budget.
To build smart production processes integrated with advanced cad/cam solutions is also an important factor. Among them, ALPHACAM is a very powerful CAD/CAM software that can program simple 2D machining to complex 5-axis parts and connects to almost any machine. As official reseller for ALPHACAM in Vietnam, together with the partner CVSEA, GCC provides such flexibility that it is bound to have a suitable CAD/CAM solution for almost any condition, whatever they might be.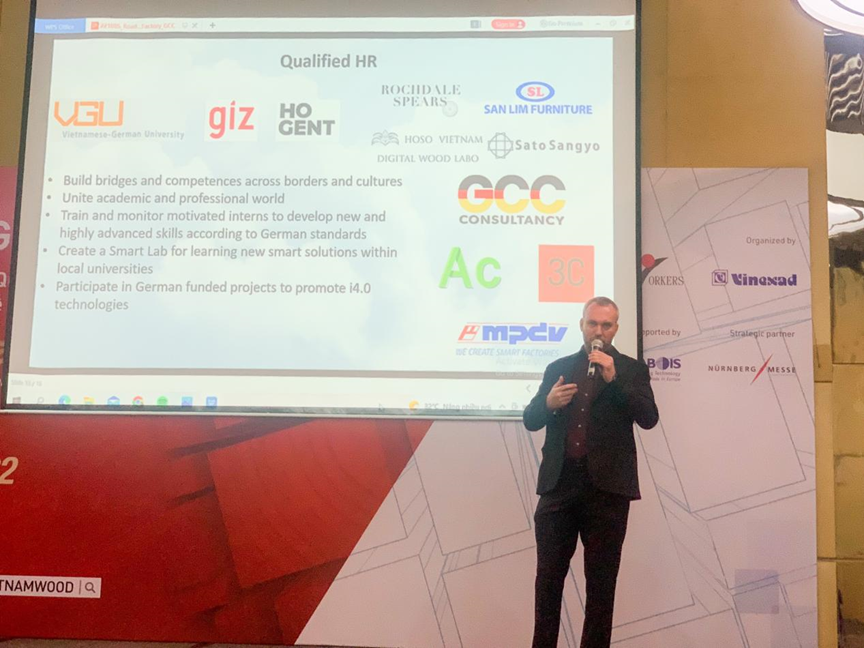 In addition, the way to a smart factory, makes the human factor is indispensable. GCC takes advantage of local human resources by collaborating with major local and international universities in training the young people to make them skilled experts for digital transformation. As a result, GCC can be provide German style quality with respect for and understanding of the local market. In this way, GCC can not only achieve its social responsibility goal, which is to improve the level of the local human resources, but on the other side, we also understand the clients needs and we can communicate with customers in their own language.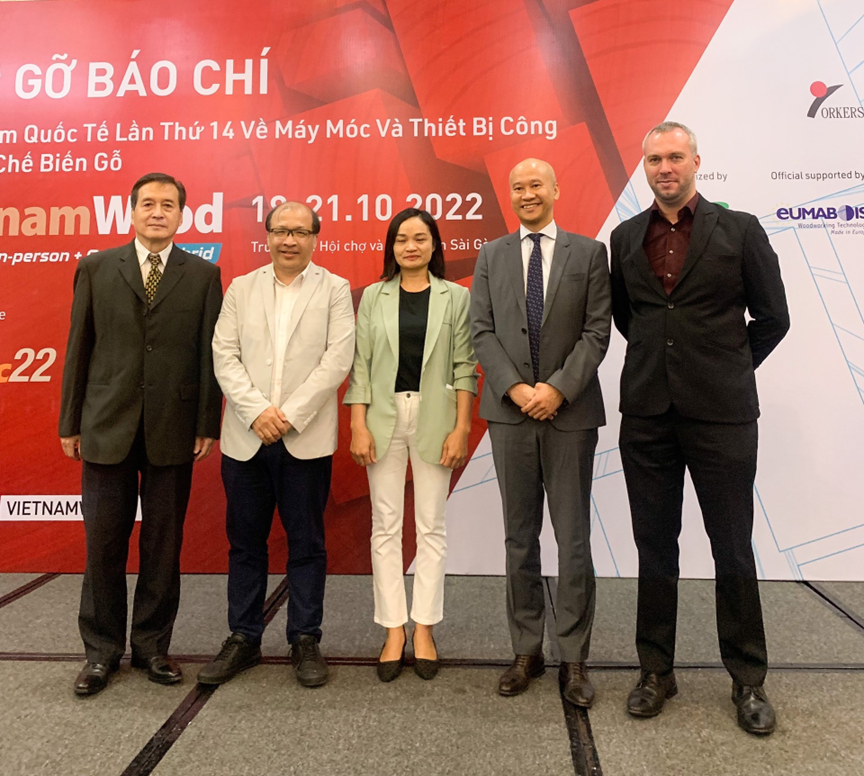 With the new and useful concepts in his successful presentation at the press conference, Mr. Bernd actively explained the steps that businesses need to take on a roadmap to their Smart Factory and expressed his hope that GCC can be the furniture one-stop partner for enterprises who are looking to turn their factories into Smart Factories.